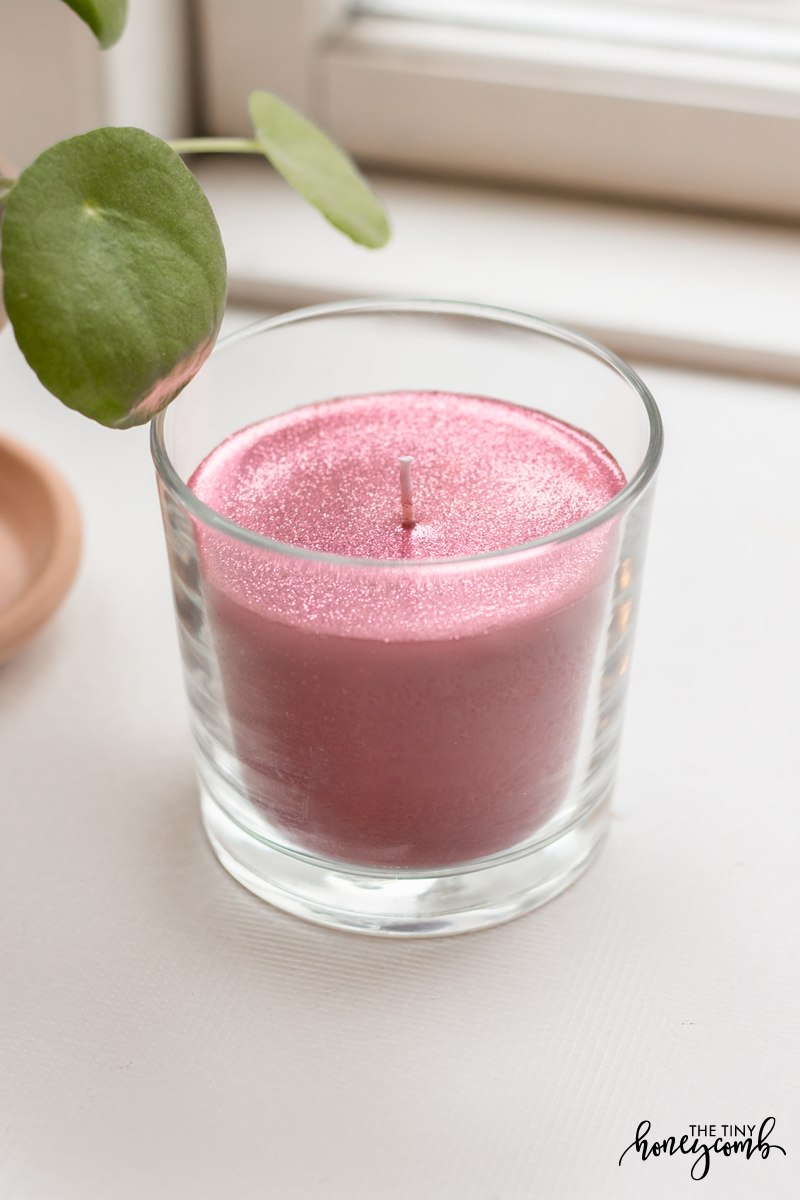 Glitter candles! I have wanted to make my own DIY glitter candles for the longest time and now that Valentine's Day is right around the corner, I thought it would be fitting to make some. They are great for decorating your home or as a gift for someone close to your heart.
So, just like in my other blog post about making candles, I already had the jars that I wanted to reuse and melt these new glitter candles into. I often buy scented candles from IKEA and I always save the jars for reusing, because I think they are so pretty and also really inexpensive.
Here is how I made my own glitter candles and you can too:
Materials you need for this project:
*Some of the links in this post are affiliate links, meaning I get a small kickback if you choose to buy something from these links. The cost is the same to you. 
glass jars, I get mine at IKEA
candle scraps, a store-bought candle or candle wax
Candle wax pitcher/wax warmer
Candle scent – optional*
Optional* a label for your candle. Get mine at the bottom of the post.
How to make the beautiful glitter candles
1. Cleaning your candle jar
first up! if you are reusing some old candle jars, you need to clean them before you can begin making a new one. This is very simple to do, actually. here is how:
if there is any candle wax left in the glass, you can remove that by heating the jar in the microwave for a minute or two. Then grab some paper towel and wipe the (now melted) wax out of your container.
next, you want to clean off the bit of wax that is left, and you do this with warm water, a sponge, and some soap. This should remove sod as well.
Lastly, you might have some sticky residue on your glass from stickers, that you have peeled off and you can remove this with a cotton pad and some cooking oil.  Rinse the oil off with some soap and you are good to go 🙂
2. Making your candle
Make sure that your container is clean and dry.
Then get your candle wax and chop it into pieces, that will fit into your candle melter. Add your wax to your wax warmer, and bring that into a pot with water, so you create a double boiler. Heat the whole thing on your stove until all the wax is melted.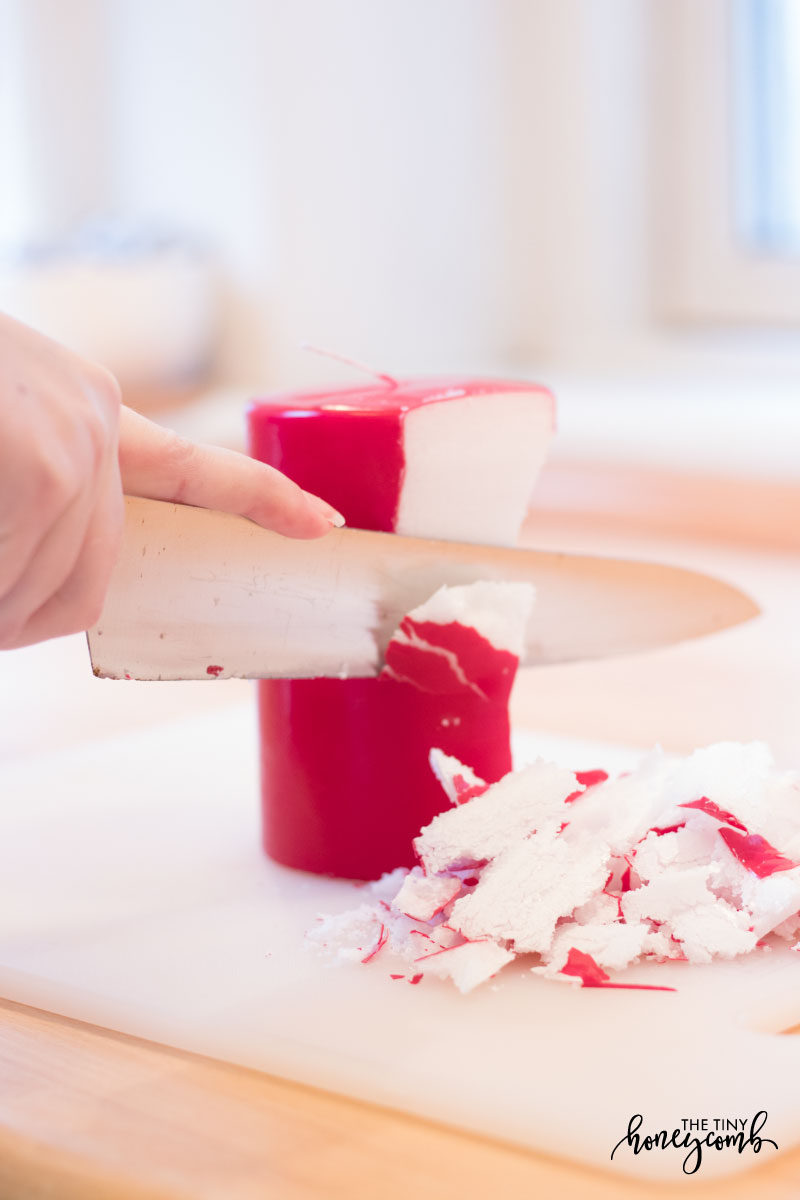 While you are waiting for the wax to melt, you add your wick to the container, you want to use for your candle.

if you have a waxed wick with a base, you can clue that to the bottom of your candle jar with some hot glue.
and if you are using candle wicks without a base, you simply tie the wick to a pencil and then lay that on top of your container, making sure that the wick is in the center.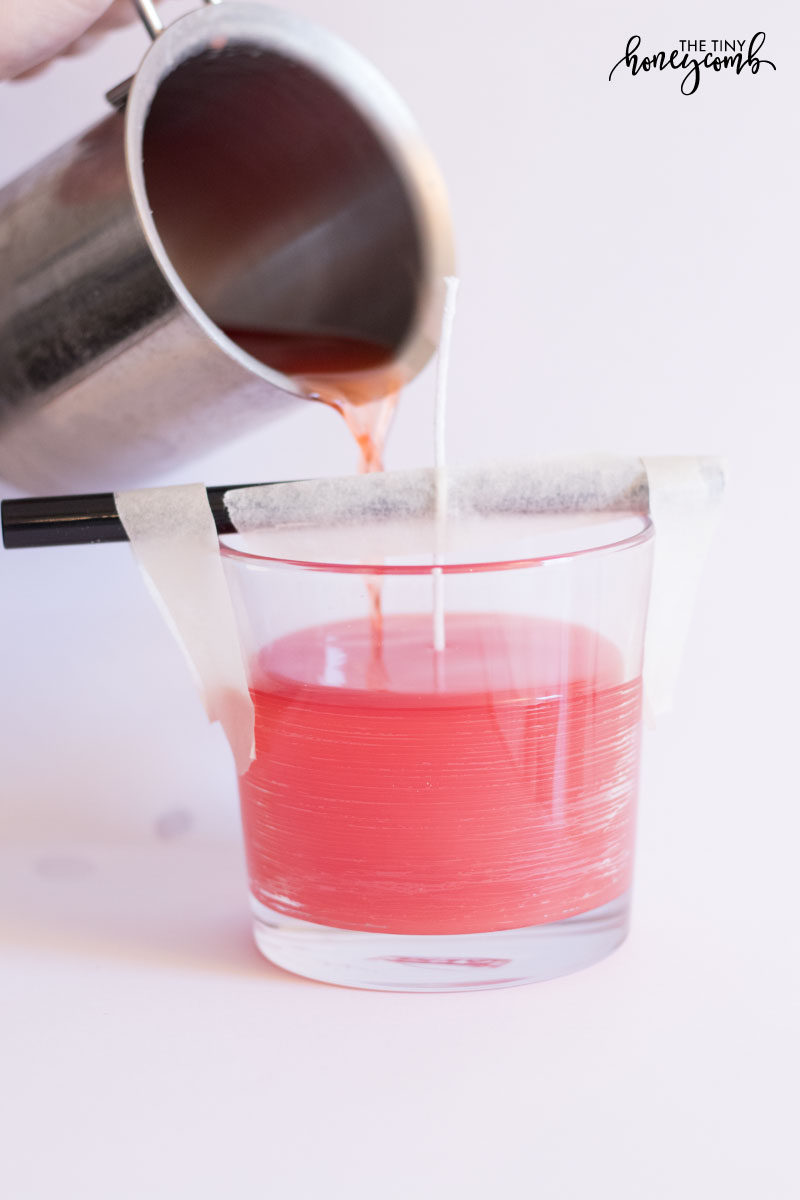 Then, once your wax is melted you slowly pour it into your jar, making sure that the wick stays in the center the whole time.
Now, you have two options! You can add your glitter now(I am using this fine glitter), while the wax is hot. And the glitter will disperse over the surface and kinda get a foiled effect. But, you can also wait till the candle is solidified and then add your glitter. If you choose the latter, your glitter will still be loose in the jar and you will need more of it to cover the whole surface, compared to adding the glitter while the wax is melted.
I chose to add the glitter right after I had poured the wax into the jar because I really like that foiled look and the fact that the glitter is not moving.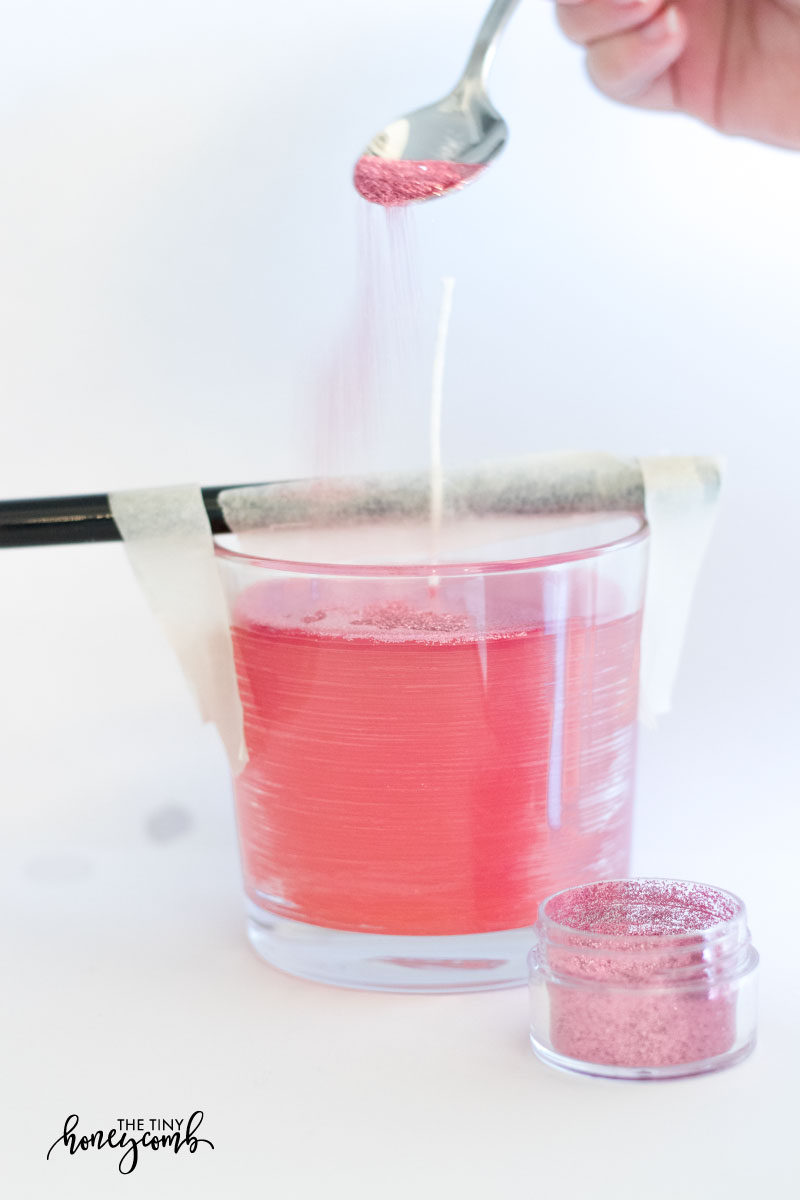 All you have to do now is to wait for the candle to cool down. If you want to give a candle like this to a loved one for Valentine, you could add your own label as well to personalize the candle even further.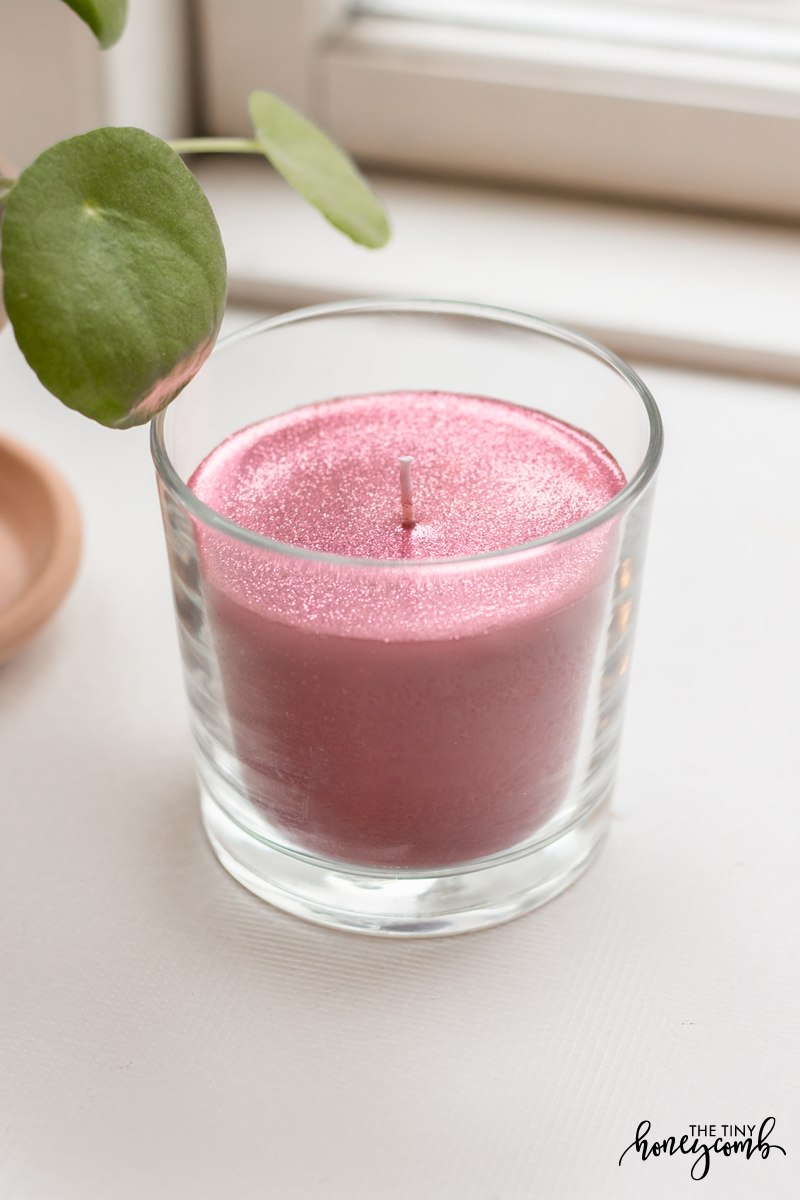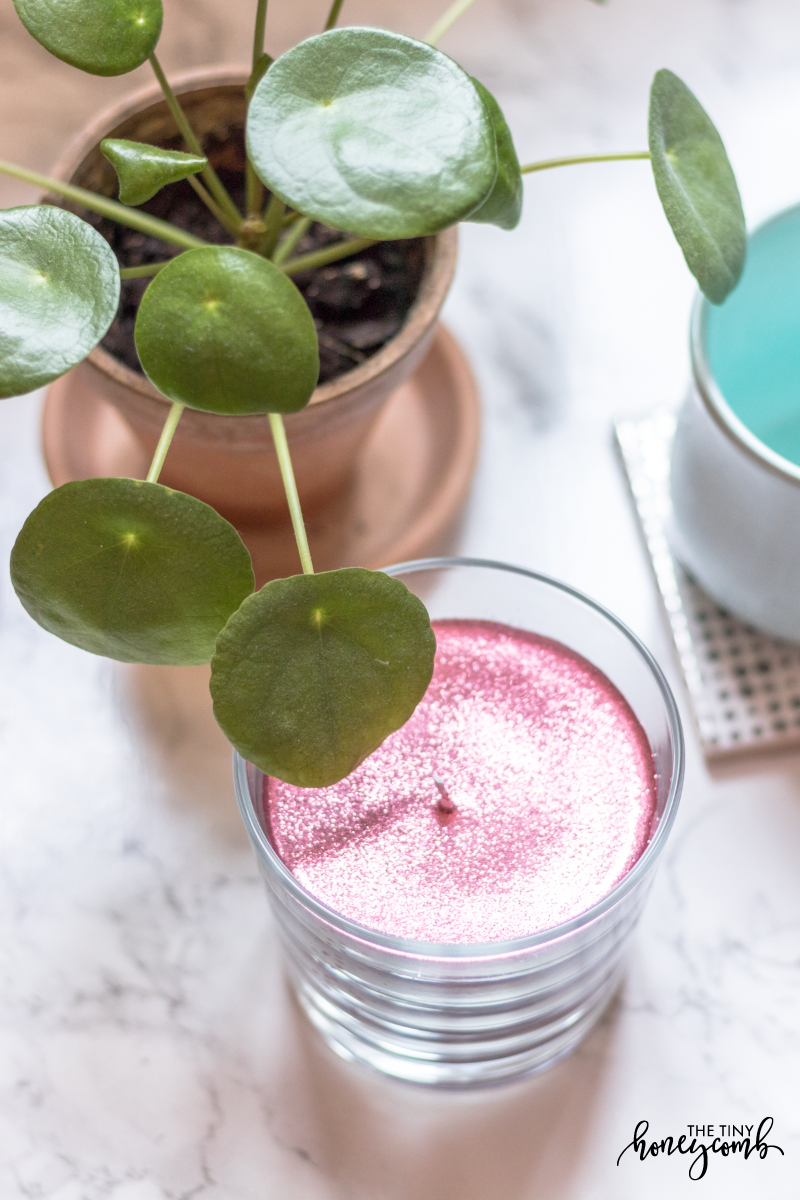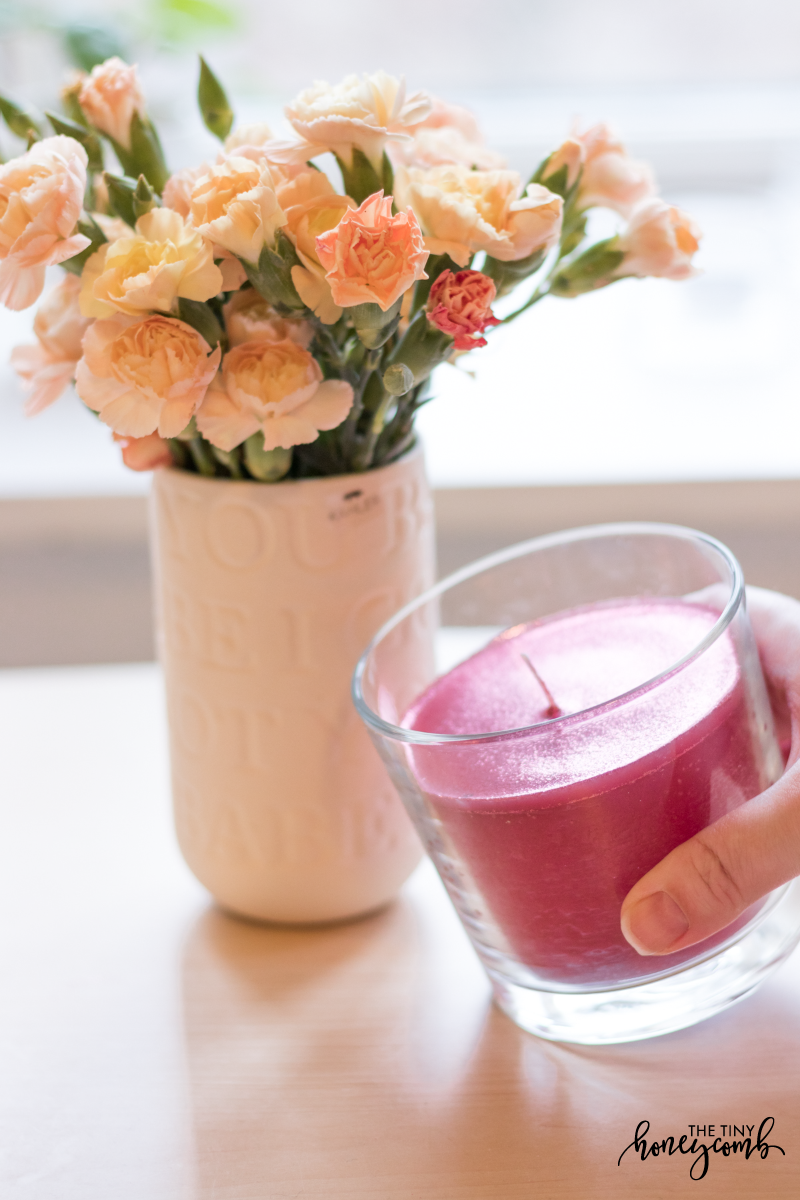 Want this candle glitter diy to be super easy?
Get a pre-made candle and a heat gun. I used my heat gun to heat the first layer of a pre-made candle and then added the glitter right on top, while that layer was still melted. Worked like a charm and took no time at all.
But! Just a friendly note. Please do not use your heat gun on the wax, when you have added your glitter. Everywhere… Glitter will be everywhere 😉
Just make sure that you have a decent amount of melted wax before adding the glitter. Or else it will not disperse properly and you will get chunks of glitter where the wax meets the jar.
Louise